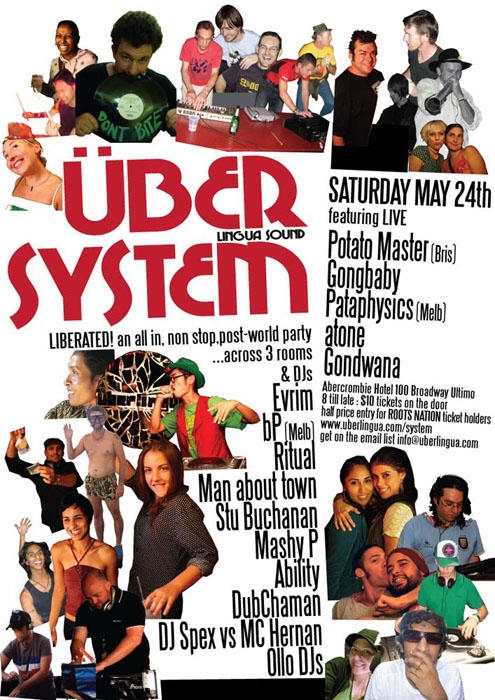 UBER SYSTEM LIBERATED!
Saturday May 24 at the Abercrombie Hotel.
Since December 07 Uber Lingua has been hosting Saturday night parties at the Abercrombie... All except the last episode, the BALKAN & GYPSY BASH, have been celebrations of diversity called UBER SYSTEM parties... each growing in popularity and turnout... It's now time for another...
UBER SYSTEM LIBERATED! features LIVE performers Potato Master (Bris), Pataphysics (Melb), Gongbaby, atone & Gondwana alongside DJs Evrim (Turk), bP (Melb), Ritual (DnB), Man about town, Stu Buchanan, Mashy P, DJ Ability (turntablist), Ollo DJs, DubChaman plus DJ Spex vs MC Hernan... In house developed video material by Melbourne based VJ, Siadatz will also be screened.
Saturday May 24th : 8pm till very late : Abercrombie Hotel : 100 Broadway, Ultimo : Click here for location on Google Maps
$10 entry tickets on the door

After the gynormous SYDNEY GYPSY & BALKAN BASH of April 19, the Uber Lingua Abercrombie continue to push cutting edge culture and linguistic diversity into Sydney's party scene... The events are now pretty much monthly thangs and the forthcoming edition UBER SYSTEM LIBERATED! will not let the standards slip... As the winter months approach the motivation to have more stuff inside is evident. Together with the Figure 8 crew who help out with sound, we launched our new 'Indoor stage' at the last party and this also allowed us to have LIVE stuff after midnight (the Beer garden has sound restrictions)... a 3-member version of the Gypsy Dub Sound System used it to great affect...
At UBER SYSTEM LIBERATED! Brisbane's Potato Master returns to be part of an Sound System performance with selector bP and Sri Lankan MC Pataphysics. This trio performed together at the Sydney Festival 'Festival First night' space by Uber Lingua in Angel Place... They are joined by Sydney based turntablist Ability, so it's a tri-state configuration... Gong Baby are Indonesian percussion and instrumentalists Deva Permana & Efen Jaenudin working with producer and DJ Jonah. The combination is a precision mix of electronics and urban beats fusing with ancient eastern aesthetics... frankly speaking it's quite electric! Gondwana are heralded Didgeridoo player Charlie McMahon (previously working under the moniker Gondwanaland), Mashy P and a keyboard player named Paul. Charlie has recorded on albums by Midnight Oil, Janes Addiction, Hisashi Shirahama, Ed Kuepper & John Williamson to name a few... This project takes his exploration of Didjeri-bone and FX pedals further... atone are ex-Mancunian Andrew Fitzgerald and Steve Stanislavsky, they produce a never ending stockpile of deep electronic dub and the act has become a mainstay of the Sydney electronic music scene since first appearing with their 5 star reviewed atonement album in 1996.
DJs for the night include Turkish SBS broadcaster Evrim, who received a popular response to her set at the SG&BB, so she had to be asked back for another slot. Indian drum and bass DJ Ritual arrives on the Uber Lingua lineup with a strong urge to connect his genetic heritage to his DnB passion. Ritual is no stranger to the Abercrombie after playing many a DnBBQ. Stu Buchanan and the Ollo DJs fulfill a newly formed aspect of the Abercrombie parties. As there's sound restrictions after midnight we've started featuring (dare we say) 'chilled out' listening sets in the beer garden after midnight. Almost all of the LatinDJs (and an MC) involved in Uber Lingua are on this bill as part of some random sequence of programming coincidences... Man about town, DubChaman and DJ Spex vs. MC Hernan will inject a higher than normal hot blooded element to this party... The upstairs gallery space will be open from 11pm as always for more adventures...
UBER SYSTEM LIBERATED! will be one chockers party in Uber Lingua's history... If you've missed the past few, it's def worth considering. We should also mention that due to popular demand, we'll be doing another GYPSY & BALKAN BASH in the next couple of months so keep yer eyes peeled and yer fur hats within reach... Check out the Uber Lingua flickr pages to see photos from the recent Abercrombie events. It's also worth getting on the Sydney UL email list by sending a message to syd@uberlingua.com

---

MORE ON THE ARTISTS
Gongbaby
GONGBABY Experience the unique sounds of Indonesia fused with electronic break beats, samplers, vocals, and dance in a hot mix of breaks and beats bound to make the floor burn. Featuring... Deva Permana, Efen Janeudin & DJ Jonah
Deva Permana: Born in Jakarta, Indonesia Deva Permana has accomplished many musical achievements of International standard. From the age of 12, he began learning Traditional Indonesian Music from West Java and Bali, widely known as Gamelan. He specialised in the percussive instrument called Kendang and by the time he was 17, he was playing Kendang professionally. From learning Kendang, Deva Permana became interested in learning Western drums and any other percussion around the world as a rhythm collector, and was also playing and recording professionally at the age of 17. In 1995 he was offered a Cross-cultural scholarship at the Australian Institute of Music in Sydney, and also started receiving a credit in the Australian music history book "Australia Exploring The Musical Landscape". He has been involved in and lead Indonesian Traditional music workshops in High Schools, Primary Schools, Kindergarten, with Percussive Arts Society, social communities activities and many Music Academies under Australia Art Centre Umbrella, Indonesian Embassy, Indonesian Consulate General, Netfare, Direction in Music, also Musica Viva in Schools program. His main passion since coming to Australia has been educating, introducing, and sharing to the people about Indonesian music and cultures, alongside fusing Western and Indonesian music together, bridging Indonesian culture with that of Australian.
DJ Jonah: I'm a DJ, Producer, MC, Radio Presenter that loves and hates music of all kinds. I produce beats and DJ for a range of artists including: 4:20 Productions, Lotek, KillaQueenz, GongBaby, Sista She, any many others. My full name is Tim Jonah Hagan. My dad wanted to call me Tim and my mum Jonah so I'm a bit of a split personality at times. I was born in Kano Nigeria (West Africa). As you can see from my photos I don't look Nigerian, my parents were Australian teachers who were travelling the world teaching English. I've also visited Malaysia, Indonesia, Thailand, Loas, Taiwan, Vietnam, Malta, England, Scotland, Germany & France, but I call Sydney Australia home. I work at Alchemy as a radio producer / presenter. It's great because we play a really diverse range of music from all over the world!
Artist: Gongbaby
Track: Rebanong
MP3 File Size: 4.3 MB

Artist: Gongbaby
Track: Tepak Jingkrak
MP3 File Size: 5.2 MB
---
DJ Ritual
Ritual is a DnB DJ known around that scene in Sydney... He jumped at the chance to play an Uber party and explore the musical roots of his genetic heritage... Here's the blag from his myspace...
"I guess I'd better put something up real quick... Ritual has been a boy in love with music for all of his almost 30 years. Like a lot of people seem to say, he grew up listening to loads of Motown, Funk, Jazz and guys like Hendrix and Led Zeppelin. I developed a massive love for the Police at the age of 4 thanks to my uncle (who has amazing taste in music and had a massive effect on everything I love from music to my ridiculous desire and love for Nike's). Dad was a drummer in a band (called Nirvana Express) and both him and his brother were DJ's in India in the 60's and 70's which worked out great for me as I now have all these original copies of Hendrix and Jazz albums - thanks dad).I was a very serious tennis player and on one Saturday as I was going to coach and dad says "son, since you're playing guitar now I think you should here this" I was about 13, the album was Hendrix 'Band Of Gypsies'. I knew then that music was going to play a massive part of my life (if I really had to chose just 1 album that is the greatest ever - I'd have to say that one). Ok, let's speed things up a bit here... Years of guitar playing ensued, studying for a time with Sydney Jazz guitar legend Carl Orr who was an absolute inspiration but unfortunately (for me)left Oz in 95 and another transformation begun... In '94 it was all about Bukem, Acid Jazz guys like Incognito and Mondo Grosso, Mo' Wax and fusion jazz. Time went on and 3 of my very close buddies and myself started a club night called Green n' Jazzy which was a night of everything from funk, to downtempo and DnB - but all with a distinct party vibe and the bizness of the beats has never stopped running from there. Over the next 10 years, it was Bukem, then Full Cycle, MIST and now Calibre as far as taste in DnB goes (if I was to give u the bare essentials). I play a lot of other stuff to from broken beat, Detroit techno, hip-hop, funk, beats, dub and reggae - u know I just love music. It so happens that my current passion is DnB. I also write breaks with Q45 and Kid Kenobi as 'Red'. We got commissioned to do a remix of Barcelona a JDS tune called rock star and a couple of other bits. It's great as we are 3 great mates that get to get in the studio together and the results have been well received... Gig wise, I've been lucky to play with most of the big internationals from Roni, Goldie, Bukem, Marcus Intalex, Zinc, D Bridge, Hype, Suv, Krust, Die,Groove - the list is huge and I'm gonna stop there. Being the first person to tour Marky and Bryan Gee in Sydney, Calibre too, I guess you could say that I got involved with all aspects of DnB. Coming to now (finally - thanks for sticking wit me) and I've been getting a lot of support for my music from my 'big brother' Spikey Tee (check the Congo Natty Outernational MySpace), RCola (big love for your support blud) and headz like Suv and Bryan Gee who are constant help and inspiration as well as my local boys like A.L.F. who I do a lot of DJ'ing and radio with as Rollers Music and NZ headz who seem to show me more love than over here in Oz. I'm sure I've missed out some shit and I'll amend that later but here's the rough info for now. ...Enjoy the beats as they should really speak for themselves.."
---
Stu Buchanan
Hailing originally from Scotland, Stuart Buchanan is the host of the international music show, FAT PLANET on Sydney's FBi Radio and editor of the popular international music blog, fatplanet.com.au . A comrade of the international and multi-lingual music movement, Stuart has become deeply involved in Uber Lingua over the last couple of years, DJing baile funk, dancehall, afro hiphop, reggaeton, Baltimore, kuduro, bhangra, balkan beats and much more at the Sydney residencies and at the 2007 Laneway festival in Melbourne.
Artist: M.I.A. vs Cracker Farmboy (aka Stu Buchanan)
Track: Bucky Done Gun (Cracker Farmboy's Eye Of The Tamil Mix)
MP3 File Size: 3.28 MB
---

Uber Lingua Sound System performance featuring
Potato Master
Post-Japanese Brisbane MC Potato Master_ sings, raps & raga MCs in Japanese, broken English and Gibberish alongside creating abstract beats for himself & DJing what he describes as 'funny music'. His style is deliberately out of control and is one of the most infectiously hilarious performances available to Australia's East Coast, and VERY Japanese. In 2002 he joined 19-t records in Kyoto Japan, and toured Europe with them in '03. In '05 he moved to Australia and linked up with locals including equally zany hip-hop crew 'Curse Ov Dialect', Brisbane's Anglo-Asian dub system 'Taste of tea', DJ Skyfish, Heavy weight champions and the 'Lao mirador' reggae radio show on Vegas's legendary 4ZZZ. He also became a central vocal entity in Uber Lingua Sound System and has toured Melbourne twice, once as the headline artist at St Jeromes. He literally brought the house down with his solid beats, ultra-precise raps and hysterical ways...
Artist: Potato Master
Track: Ichee Nee San Chee Ragga
MP3 File Size: 4.7 MB

Artist: Potato Master
Track: Number Two! (Consumerist Rap)
MP3 File Size: 3.9 MB

Artist: Potato Master
Track: Switch On (feat Cow P)
MP3 File Size: 3.8 MB

Artist: Potato Master
Track: Dubstep Experiment
MP3 File Size: 2.2 MB
Pataphysics
Tamil & Singhalese speaking Australian-Sri Lankan Pataphysics is an MC, trumpet player, sonic landscaper & rhythmic sound shaper. He began rapping in Singhalese a few years ago as an excellent way to learn his mother tongue, performing as a solo artist and with Uber Lingua, Astro Flava and the Ubiquitous Dub Legitimizers. With a history that's seen him perform alongside the likes of Megabias, Elf Transporter, Combat Wombat, Illzilla, Nicky Bomba, TZU, Jeff Lang and the Agency Dub Collective, Pataphysics_ raps deal with everything from local & international politics, indigenous resistance and dreaming to eastern philosophy, existence and spirituality. His live shows draw deeply on elements of Sri Lankan culture.
Artist: Pataphysics
Track: Breath In
MP3 File Size: 2.2 MB

Artist: Pataphysics
Track: Komatha Machang
MP3 File Size: 3.8 MB
bP
With cultural diversity his primary passion, Australian DJ/producer 'bP' (Brendan Palmer) has been representing the musically 'not so represented' for nearing two decades. He has wandered the world gathering sounds and has performed in places as diverse as Barcelona, Berlin, Dublin, London, Tijuana, Mexico city and Helsinki to name a few... In 2004 he launched Uber Lingua and his sonic activity has grown exponentially playing literally hundreds of gigs and promoting culturally charged music in most capital cities of Australia. bP's sets traverse language, culture, genre, history and social scenes; deliberately defiant of mainstream music fashions, he presents an intersection of underground and outernational sounds that capture his imagination. Roots to Futurism, East to West, Minimal to Maximal are all sonic stops on bP's translingual express. Brendan additionally works as a producer at the legendary Melbourne radio station Triple R during the day and presents the weekly 'Dialectic' radio program on the web and Tasmania's Edge Radio.
Artist: bP (vs Marone & Menta)
Track: Curse ov dialect vs dubstep
MP3 File Size: 4.9MB

Artist: bP
Track: Atom remix (instro - edit)
MP3 File Size: 2.5 MB

Selector: bP
Set: The Circumnavigation Construction (Sept 07)
MP3 File Size: 72.6 MB

Selector: bP
Set: Horse Bazaar (late August 06)
MP3 File Size: 66.6 MB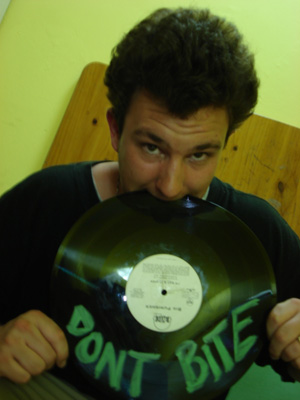 & DJ Ability
Also known as "The seriously not so serious DJ" has been intentionally staying under the radar for the past few years using the traditional skills of hip hop to mash up all types of true school soul music. "I personally can't think of anything worse than getting famous for just playing other peoples music, its great to educate when you can and I love to rock a party but I don't really like all the hype attached to the term DJ, besides, I kind of just enjoy scratching as I feel that all I have time for is a little practice now and again. To be a respectable and successful you really have to put some time into it". Hosted The prime time refresh project radio show on Bondi fm for two years and Playing with names such as Che fu, DJ revolution, Mr choc, P-money and Kero one and busting cuts with lords of the fly, Morganics, versionaries, recently established crew "Grand Vinyl" alongside Mikeswun and also on the new M.I.A album; If you are genuinely into an open minded approach to music make sure you make an effort to check him out...
---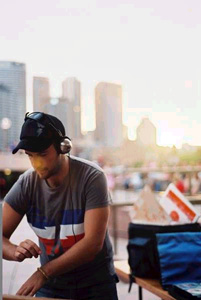 Man about town
Michael Correa plays mostly alternative Latin, coming from a Spanish background and having hosted Ritmo on 2SER FM for three and a half years, all of his DJ sets have a huge Latin influence. From flamenco hip-hop to Chilean reggae to Baile Funk, the music is dynamic, dance orientated and sexy.
---
Evrim
Evrim is a broadcaster with the SBS Radio Turkish program... she played the massive SYDNEY GYPSY & BALKAN BASH (representing the far east of eastern Europe) and did so well we had to have her back for another set at UBER SYSTEM!
Turkish born- Sydney based Evrim completed her degree in screen production/ Media and known for her work with SBS Radio since 1997. Evrim plays a diverse and free range of funky, gypsy grooves and began her career as a radio DJ and Broadcaster journalist and maintained a solid 11 years on multicultural and multilingual radio Station SBS. She has also worked in event /party organisation and took parts in short films and commercials. Evrim enjoys showing off her belly dancing moves while playing a Gyp, Balkan, East and Northern European and especially
groovy Turkish Tracks.
---
DJ Spex & MC Hernan
DJ Spex is a proud Latin DJ spinning alternative tracks that fuse with his background to offer energy unlike others in this town... Latin-Rock, Latin-Ska, Latin-Reggae, Latin-Hip-hop. He's a regular at the DNBBQ's and works closely with MC Hernan. Spex has been a regular at Sydney Uber Lingua parties since they kicked off in 2005.
MC Hernan neither accepts the status quo - nor sounds anything like them! Taking an intriguingly insightful approach to writing lyrics, this dancer-vocalist-song writer come MC is a social commentator, fighting against the system. Lyrically gifted, always moving forward - eyes open - this Newtown based MC seamlessly brings to the surface honest themes in lyrics that can only be described as controversially catchy, unanticipated and powerful arrangements. Wind it back to the beginning and Hernan (born in Argentina, raised in South-Western Sydney) had no choice but to fall in love with music from birth! Hernan's Latin roots have always held strong and been the foundations to the path that has lead to his dancing, music creating and vocal career pursuit.
From Latin dancing at the tender age of 6 and break dancing to NWA and Public Enemy in the 80's, MC Hernan then picked up the microphone and composed his own messages of empathy, awareness and public progression. His influences have now mutated also combine reggae, with the mash of Latin Hip-Hop. The result, Social Progression System! MC Hernan first launched his lyrical career merging with 3 piece group - 'Dub Progression'. From here, regular collaborations with DJ Spex, Dub Chaman and Uber Lingua ensued. Currently MC Herman's societal deprecating approach to writing lyrics gave birth to - Social Progression System (SPS). SPS is an 8 piece band that have grouped together to produce original songs punctuated with personal experiences, insight and human nature.
---
atone
atonehave been around since the mid-90's, the act founded by Andy Fitzgerald in Manchester UK, before he moved to Australia and released the hugely successful and definitive 'atonement' album co-produced by bP on the Zonar Recordings label getting rave reviews including a 5 star review in the Sydney Morning Herald and Rolling Stone. atone went on to release many more successful releases over the years and have maintained a strong presence through simply being prolific with their signature bass heavy beats. Recently, Steve Stanislowski has joined the act and the two have developed a solid live show.
Artist: atone
Track: Du Bass
MP3 File Size: 4.5MB

Artist: atone
Track: G Funk
MP3 File Size: 5.4 MB

Selector: atone
Set: Myst
MP3 File Size: 3.2 MB
---
Ollo DJs
These guys impressed so much at the GYPSY & BALKAN BASH, they had to be asked back for the post-midnight set in the beer garden. Ollo are a well known Sydney electronic act and moonlight as Ollo DJs. When they play with Uber their cultural heritage rises to the surface and the Germanic tendencies lead them to play a selection of music not often explored...
---
Gondwana
featuring Charlie McMahon, Mashy P & Paul the keyboard player
Charlie McMahon
McMahon took up playing the didjeridu as a child and has become one of the most acclaimed didjeridu players in Australia. While Charlie revered the playing of the Aboriginal people in their traditional ceremonies, he did not seek to mimic their performance, but took the didjeridu to contemporary music. At 16 years Charlie lost his right hand while experimenting with rockets in his backyard. In 1983 he started Gondwanaland with synth player Peter Carolan & percussionist Ed Duquemin doing epic outback tours and other projects including Sound Cloud to 120,000 at Sydney Cove in 1988.
Artist: Gondwana
Track: Corrupt Wobble
MP3 File Size: 3.0 MB
Mashy P
Mashy P has been active in Sydney's underground playing, remixing and creating left-field beats from hip hop and dub to electro and techno since arriving from England in 1987. A few years back he traveled to Qatar and remixed local radio broadcasts putting together arabesque electro, beats and drum 'n bass. Since then, he's begun producing global music influenced electronic music, and has DJed at Uber Lingua parties in Canberra, Melbourne and Adelaide alongside running the Sydney residencies since 2005. Most recently he toured Mexico, Canada and the USA gathering music.
Artist: Mashy P
Track: Snaker
MP3 File Size: 5.7MB

Artist: Mashy P
Track: Baile Num Nums
MP3 File Size: 4.0 MB

Artist: Mashy P
Track: Billistep
MP3 File Size: 4.4 MB

Artist: Mashy P
Track: Bargy
MP3 File Size: 4.5 MB

Artist: Mashy P
Track: When it comes down to it
MP3 File Size: 5.5 MB

Artist: Mashy P
Track: Hypee Cumbia
MP3 File Size: 3.3 MB
---
Dub Chaman
Argentinean born, DJ Dubchaman represents the Sydney alternative Latin scene. A cumbia beats, reggae, dancehall and dub specialist, also plays bass guitar and efx as a member of 7 piece Sydney act 'Social Progression System'. With a flair for the rare groove, be it dub, free jazz, roots reggae, rub-a-dub, afrofunk, dancehall or musica latina and an ever expanding taste and knowledge of music styles, Dubchaman has been following this passion for music and honing his talents for more than twenty years. His focus is always about the feeling, the music and its message. Dubchaman never plans a set, avoiding predictability, never just settling for what's current. At the dawn of 2003, Dubchaman, together with other DJ's and MC's started Chimichanga, the first Latin alternative night in Sydney, with a residency at the World Bar.
Since then, Dubchaman has played sets at many different Clubs and Venues, such as The Basement, Canberra's Old Parliament House, Candy's Apartment, The World Bar, The Hippo Bar, and The Marquee to name a few. As a member of Uber lingua DJ's, Dubchaman has also played at St Jeromes, in Melbourne, Uber Lingua Nights @ The Abercrombie Hotel, and The Sydney Laneways Festival, often under SPS Cru, a Sound System with MC's and Percussion. In addition to his musical adventures, Dubchaman is a Graphics and Web Designer with more than 15 years experience.

---
previous UL parties at the ABERCROMBIE...
here are some of the more beautiful punters and crew at previous UBER parties...
check out photos from previous Sydney Uber gigs...

---
email: info@uberlingua.com to be on the Sydney Uber email list...
Music can be sent to Uber Lingua PO Box 2613 Fitzroy 3065 Australia