CONTINENTAL COLLISION!
featuring East Javanese songstress and Hip Hop MC NOVA for her only Australian show, direct from Brisbane Japanese expero MC and zany performer POTATO MASTER, plus Cuban Reggaeton swooner POCHOMAN... plus a large contingent from the Melbourne crew and Trevor Brown from GYPSY DUB SOUND SYSTEM putting together a Gypsy Jamm...
SATURDAY APRIL 4 : 8pm - 4am
$10 before 10pm, $15 after...
Abercrombie Hotel : 100 Broadway Ultimo
(Corner of Abercrombie & Broadway)
After the huge success of another stint at the Sydney Festival presenting the Festival First Night Angel Place space, Uber Lingua's next episode at Sydney's Abercrombie Hotel has, for the first time three separately themed spaces... Drawing upon two successful gigs in the past... and introducing a new concept we've been planning to drop for ages!
Each space explores the cutting edge to the sonically timeless... weaving in live music, multi-lingual vocalists and video performances...
Outside in the beer garden it's 'Carrera Espacial' AKA the Latin Space Race with an 'Asado' Style BBQ from 8pm, DJs from Colombia, Peru, Chile & Argentina... Cuban and Argentinean MCs, a Uruguayan VJ and lots of surprises...
Upstairs we drop one killer Gypsy Balkan (Russki & Heebster) Bash with Eastern European instrumentalists working with DJs dropping everything from Klezmer to Serbian Brass, Russki Punk to Bulgarian bass. Hebrew Ragga to Hungarian Jazz... We're amplifying at least three spaces up there so there'll be lots of room to lose it on the dance floor...
In the downstairs space we present our first Pan-Asian Sound Clash. DJs with Sri Lankan, Indian, Japanese & Chinese heritage dropping DnB, Bhangra, Ghetto tech, Hip Hop, electronics, Dubstep... you name it... expect tonnes of bass... alongside sound system style musical happenings (Tabla and keyboards etc) alongside MCs from Indonesia, Japan and beyond.
The full Lineup is...
CARRERA ESPACIAL AKA LATIN SPACE RACE
ASADO BBQ & BEER GARDEN
Video by VJ Dio (Uruguay) & 'M', LIVE Pochoman (Cuba), DJ Spex (Arg) and MC Hernan (Arg), Mashy P (ex-UK), Mr Mai Tai (Sugartime - Mambo set), Patto (Chile), D.Lenis (Colombia), Bruno LT (Brasil) & Gonzo (Peru) + Latin BBQ by Asado King from 8pm
GYPSY & BALKAN BASH - House party
Sveta (Russki), DubChaman (Balkan beats), NikNak (Old Skool Gyp), Hezekiah (Klezmer meets Bulgarian), Trevor Brown (from Gypsy Dub Sound System), Jax (Hungarian Jazz vocals - Melb) + surprise east-euro instrumentalists
PAN ASIAN SOUND CLASH - Bass Bashment
MC Nova (Indonesia), MC Potato Master (MC set & Jap-Hop DJ set), Sven Simulacrum (Sri Lanka), bP (Bhangra) - Melb, Prem K (Tabla) - Melb, Macro (Bass) - Melb, Ritual (Indian inspired DnB) & Yellow Peril (Sub Bass Snarl)
---
ARTIST BIOS
Pochoman (Cuba)

Ever since he was a child, Pocho liked to dance, act and sing and believes that he inherited the music in his blood. In 1998 he started working with a group called Onda Expansiva and this was when the name Pochoman became his artistic name. Onda expansiva won an audition out of 500 other hip hop groups to perform at the International Hip Hop Festival of Cuba.

Pochoman was offered the chance to sing in America, Brazil and Europe however due to his country's system of government he was unable to go. He has sung on radio and shared the stage with various other famous cuban artists such as Haila, Polo Montanez, Los Van Van, Carlos Manuel among others. He claims to be the only hip hop artist that has had the honour of singing in front of Fidel Castro.
Artist: Pochoman
Track: Cubano
MP3 File Size: 6.7 MB

Artist: Pochoman
Track: Cuba
MP3 File Size: 4.0 MB

Artist: Pochoman
Track: no woman no cry
MP3 File Size: 6.2 MB
---
Bruno LT (Rio)

Versatility may have a wider mean when we talk about Bruno LT's activities with brazilian music and audio techniques. His full dedication led him to work with great names of the Brazilian Popular Music. Extremely sensible to musicality, the DJ and Producer applies the large experience acquired on his own projects involving new talents of the Brazilian alternative music. After having worked for a few years at a great studio in Rio, he had the chance to produce and release some of his tracks and remixes. Soon, LT became the resident DJ of the main electronic parties, making the first experiments of the pioneer Carioca_s Live P.A's. Projects such as the Dub Mentals band incorporated his authenticity in which he develops a set with keyboards, pick-ups, samplers and effects..
______
Artist: Bruno LT
Track: Ser Gipe
MP3 File Size: 7.3 MB

Artist: Bruno LT
Track: Vama Ver
MP3 File Size: 4.3 MB

Artist: Bruno LT
Track: Forest
MP3 File Size: 5.2 MB
---
VJ Dio (Uruguay)
Global cineasta (film maker) and video artist Angelica Dio has thrown herself into reckless adventure all over the world to capture mind blowing visuals of real life and fantasy.
& .M.
http://thequality.com/people/michela/vj
---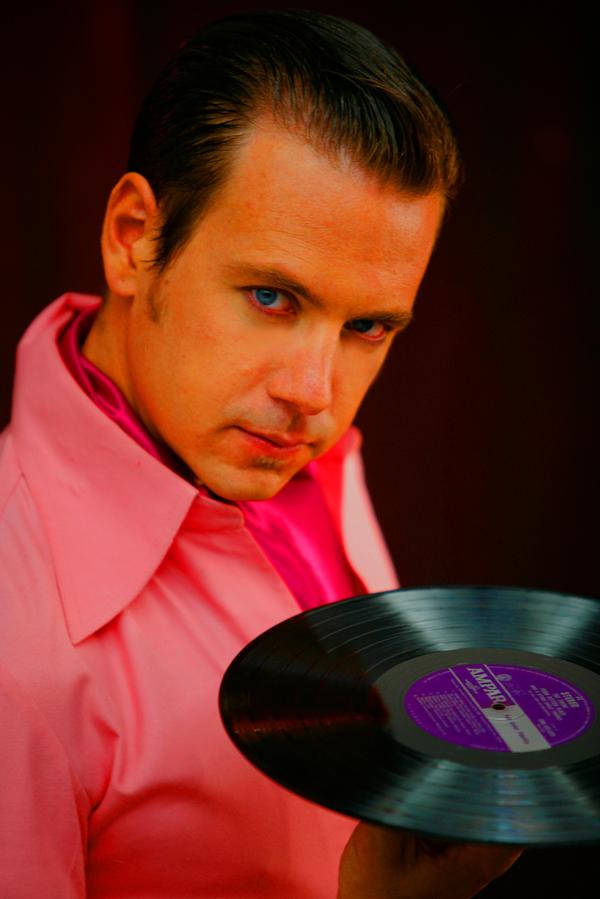 Mr Mai Tai (Sugartime)
DJ Mr Mai Tai became a vintage bollywood vinyl specialist long ago after a year's residency in Bombay city. A partnership with DJ Toon resulted in the popular remix of Ella Fitzgerald's version of 'Caravan' in 2004 which propelled their new outfit 'The Tiki Two' onto the international DJ circuit. Here they toured their world exotica sounds and hula show to South Sea island parties for billionaires and New York paddle-steamers hosting burlesque. Well travelled adventurer and filmmaker, the man behind Mr Mai Tai is also recently responsible for directing the feature film 'Son of a Lion' currently playing at cinemas around Australia. This will be a rare appearance of a DJ who only comes out of his hunting lodge for special occasions, plays only the rarest, most unusual vinyl records and knows how to master the atmosphere for the late night jet-set.
---
DJ Spex & MC Hernan
DJ Spex is a proud Latin DJ spinning alternative tracks that fuse with his background to offer energy unlike others in this town... Latin-Rock, Latin-Ska, Latin-Reggae, Latin-Hip-hop. He's a regular at the DNBBQ's and works closely with MC Hernan. Spex has been a regular at Sydney Uber Lingua parties since they kicked off in 2005.
MC Hernan neither accepts the status quo - nor sounds anything like them! Taking an intriguingly insightful approach to writing lyrics, this dancer-vocalist-song writer come MC is a social commentator, fighting against the system. Lyrically gifted, always moving forward - eyes open - this Newtown based MC seamlessly brings to the surface honest themes in lyrics that can only be described as controversially catchy, unanticipated and powerful arrangements. Wind it back to the beginning and Hernan (born in Argentina, raised in South-Western Sydney) had no choice but to fall in love with music from birth! Hernan's Latin roots have always held strong and been the foundations to the path that has lead to his dancing, music creating and vocal career pursuit.
From Latin dancing at the tender age of 6 and break dancing to NWA and Public Enemy in the 80's, MC Hernan then picked up the microphone and composed his own messages of empathy, awareness and public progression. His influences have now mutated also combine reggae, with the mash of Latin Hip-Hop. The result, Social Progression System! MC Hernan first launched his lyrical career merging with 3 piece group - 'Dub Progression'. From here, regular collaborations with DJ Spex, Dub Chaman and Uber Lingua ensued. Currently MC Herman's societal deprecating approach to writing lyrics gave birth to - Social Progression System (SPS). SPS is an 8 piece band that have grouped together to produce original songs punctuated with personal experiences, insight and human nature.
---
Gonzo the mad Peruvian
Gonzo is a stray that wandered into the Uber Lingua equation... A peruvian who used to live in Sydney, now resides in Melbourne and has been welcomed onto the decks where he conjurs up some seriously good vibes... Reggae, Roots, Latin and Gypsy tunes that will melt the most hardened musical aficianado.
---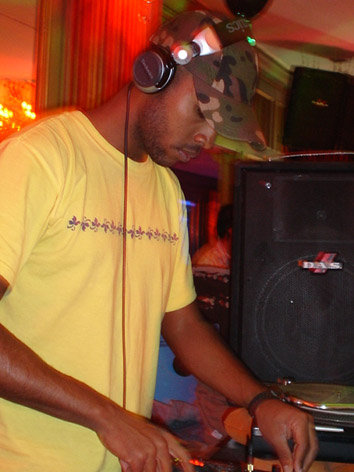 D.Lenis (Colombia)
"Born in Cali ("Salsa Capital" of Colombia) where the Massive Latin Musical Scene happens (starting in the early 70's )Bands-Festivals,Music Everywhere had a big impact in my musical growing.By early 90's electronic music shocked me and started collecting all sorts of styles i could get from Techno-House to Hip Hop-Breakbeat-Jungle wich ended up in me Djing in the most recognized underground club at the time.
Later on my Musical taste evolve into a mix of many different genres that now can be defined as World Beat, a definition for the new directions in Urban Contemporary Music around the world which includes Funk, Soul, Afrobeat,Reggae, Latin and many other different styles.This particular blend of music and influences let me manage a radioshow "Radiofunk!" for two years. The aim was engaging audience into a sound trip around the world, a journey into musical global geography. Re-creating musical landscapes around the planet with the most recent genres.
These Radio and clubbing experience also let me begin a Club with mates,almost at the same time of the Radioshow.When was time to take another step in the musical industry (not sure where) decided to travel ... Best thing ever !!!
Artist: D.Lenis
Track: Cooking (edit)
MP3 File Size: 1.8 MB
---
Mashy P
Mashy P has been active in Sydney's underground playing, remixing and creating left-field beats from hip hop and dub to electro and techno since arriving from England in 1987. A few years back he traveled to Qatar and remixed local radio broadcasts putting together arabesque electro, beats and drum 'n bass. Since then, he's begun producing global music influenced electronic music, and has DJed at Uber Lingua parties in Canberra, Melbourne and Adelaide alongside running the Sydney residencies since 2005. Most recently he toured Mexico, Canada and the USA gathering music.
Artist: Mashy P
Track: Snaker
MP3 File Size: 5.7MB

Artist: Mashy P
Track: Baile Num Nums
MP3 File Size: 4.0 MB

Artist: Mashy P
Track: Billistep
MP3 File Size: 4.4 MB

Artist: Mashy P
Track: Bargy
MP3 File Size: 4.5 MB

Artist: Mashy P
Track: When it comes down to it
MP3 File Size: 5.5 MB

Artist: Mashy P
Track: Hypee Cumbia
MP3 File Size: 3.3 MB

Artist: Mashy P
Track: Wack
MP3 File Size: 3.8 MB
---
---
DJ Patto (Chile)
---
DJ Sveta
Russian born-Sydney based Sveta is widely known around Australia for her unforgettable and explosive sets at Sydney«s annual Mardi Gras, the largest party in the southern hemisphere. Sveta plays a diverse and eclectic range of funky, twisted, deep and dirty grooves, her sets ranging from electro, rock, lounge, vocal house, deep-tribal house, funky tech-house, progressive house and techno. Sveta began her career as a radio DJ over and maintained a solid 12 years on underground community radio station 2SER-FM and joined FBI upon their launch. She has also hosted programs on other community stations such as all-dance station Radio Dex and Free-Fm. Sveta has held a true national club DJ profile and has played regularly all over Australia for well over a decade. As well as playing regularly with the Bang Gang DJ«s during their three year long stint at Moulin Rouge and Club 77, Sevta has held a diverse range of residencies spanning from Hellfire to the Chinese Laundry. Amongst her achievements Sveta played at THE BIG DAY OUT, DJing in between Chicks on Speed and Gonzales in the Hot House. She has supported The Detroit Grand Pubahs and Larry Lee at Killer for Fuzzy and launched the Sydney Opera House«s new Recording Studio with Deiter Meier from legendary electronic band Yello. Sveta also specializes in thematic events including art openings and launches!
---
Dub Chaman (Balkan set)
Argentinean born, DJ Dubchaman represents the Sydney alternative Latin scene. A cumbia beats, reggae, dancehall and dub specialist, also plays bass guitar and efx as a member of 7 piece Sydney act 'Social Progression System'. With a flair for the rare groove, be it dub, free jazz, roots reggae, rub-a-dub, afrofunk, dancehall or musica latina and an ever expanding taste and knowledge of music styles, Dubchaman has been following this passion for music and honing his talents for more than twenty years. His focus is always about the feeling, the music and its message. Dubchaman never plans a set, avoiding predictability, never just settling for what's current. At the dawn of 2003, Dubchaman, together with other DJ's and MC's started Chimichanga, the first Latin alternative night in Sydney, with a residency at the World Bar.
Since then, Dubchaman has played sets at many different Clubs and Venues, such as The Basement, Canberra's Old Parliament House, Candy's Apartment, The World Bar, The Hippo Bar, and The Marquee to name a few. As a member of Uber lingua DJ's, Dubchaman has also played at St Jeromes, in Melbourne, Uber Lingua Nights @ The Abercrombie Hotel, and The Sydney Laneways Festival, often under SPS Cru, a Sound System with MC's and Percussion. In addition to his musical adventures, Dubchaman is a Graphics and Web Designer with more than 15 years experience.___
album called "It's Hiphop Poetry Battle"
______
Artist: Dubchaman
Track: Pon mi gato Cumbia
MP3 File Size: 3.7 MB

Artist: Dubchaman
Track: Death of the Transilvanian Revolution
MP3 File Size: 3.7 MB
---
Trevor Brown (Gypsy Dub Sound System)

Trevor Brown is a composer, sound designer and multi-instrumentalist. He has performed in a multitude of situations from Symphony Orchestras in Australia and the UK, to International Dance Troupes to post-industrialist performance art to street theatre. He has also worked in theatre as a performer and director, receiving Australia Council and NSW Ministry funding for many projects since 1990.

Trevor is also an award winning composer for film and theatre. He has played and recorded and toured with groundbreaking Sydney bands and artists including, currently, Waiting for Guinness and the Gyp$y Dub Orche$tar and previously Ju Ju Space Jazz, The New Acoustic Collective, Meta bass n Breath, Morganics, La Fiesta Sound System, Proffesor Itchy's Kitchen and many more... Trevor has, for many years, worked in many aspects of community cultural development, from Darwin to Horbart, and in the UK and France, in various activities including directing festivals, developing and running workshops with disavantaged communities, Juvenile Justice Arts Programmes and working with people with disabilities. He is also respected for his collaborations with poetry and spoken word artists including Miles Merill, Tug Dumbly, Lisa Greenaway, Edwina Blush.

Trevor has also been strongly involved in electro-acoustic audio manipulation, building instruments and systems leading him to be invited to perform and collaborate at IRCAM (Institut de Recherche et Coordination Acoustique/Musique) in 1995. Oh, yes, and he also enjoys surfing, bushwalking and gardening ;)
______
Artist: Gypsy Dub Sound System
Track: Papasov's brand new bag (edit)
MP3 File Size: 3.2 MB

Artist: Gypsy Dub Sound System
Track: Skankocek
MP3 File Size: 4.4 MB

Artist: Gypsy Dub Sound System
Track: Klesmephistophology
MP3 File Size: 4.5 MB

Artist: Gypsy Dub Sound System
Track: Oud Fellows
MP3 File Size: 2.9 MB

Artist: Gypsy Dub Sound System
Track: Macedonian
MP3 File Size: 2.9 MB
---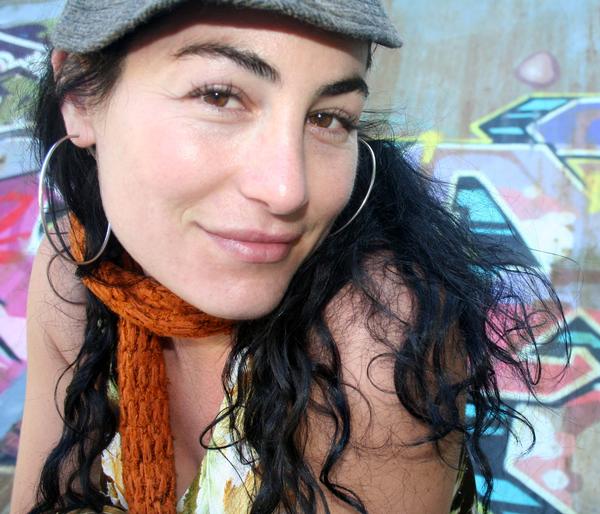 Jax
As a songwriter and musician, Jacqueline's first recording was the 'Grow' EP in 2001. In 2003 she was in the UK recording her single 'Angel' which featured on the compilations - 'The Sound of Bondi' and 'Music for quite places'. In 2005 she put together a seven - piece band and wrote, arranged, produced and co-engineer her second EP 'Orchid'. Jacqueline has performed in Los Angeles, London, India and in Australia at The Woodford Folk Festival, Peats ridge Festival, The Basement and The Sydney Metro among other venues and live-to-air performances. When not interviewing local and international acts for Street TV, Jacqueline lives in Melbourne working on her first full-length album, and for Beyond Empathy mentoring and facilitating musical outreach programs in rural communities.
---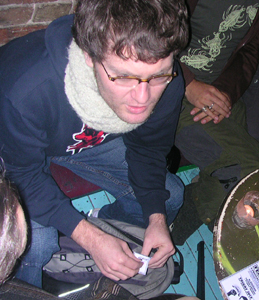 Hezekiah (ex-London)
Born in the holy land, Hezekiah made his way to Melbourne via South Africa and Sydney in the early 80's. After many drunken nights spent pissing off ra-ra crowds in the western NSW town of Bathurst for refusing to play Cold Chisel and the Eagles, Hezekiah was headhunted by talent scouts from Moby Disk. Here he earned his stripes by skilfully drooping obscure hip-hop/electronic tracks in-between Nut bush City Limits and Love Shack at important events such as weddings and bar-mitzvahs. Hezikiah plays an vast array of dub, hip-hop and electronic Hebrew tracks from across the world as well as multi-lingual tracks from the Middle East, France and South East Asia.
---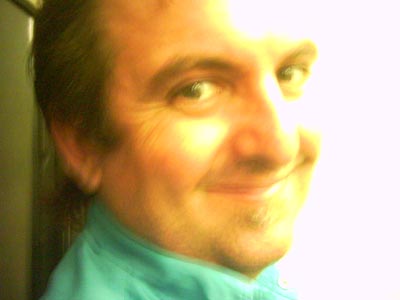 NikNak
NikNak is one third of the epic TOY DEATH crew that expand musical minds on a regular basis and is also a former member of the POST ARRIVALISTS... expect the unexpected...
---
Nova (East Java)
Nova is one half of TwinSista a female hip hop outfit from East Java Indonesia and the daughter of the guitarist from IndonesiaŪs legendary rock band Suami. In 2000 as a 19 year old Nova made her first forays into hip hop with her best friend Indry. Influenced by the Fugees, and Lauryn Hill they eventually entered a hip hop competitions to try our their own stuff. And TwinSista was born. They contributed tracks to independent compilation album Perang Rap (2001) and then toured through Java. With the support of a music producer, Iqbal (Calludra) and Pasukan Record, Twinsista released their first album, "Mother of Nature" in 2003. In March 2007 Nova returned to Yogya to record her first solo single, "Dikawinkan Alam" which was released in a compilation album called "It's Hiphop Poetry Battle"
______
Artist: Nova (Twin Sista)
Track: YaIyaIya
MP3 File Size: 6.8 MB

Artist: Nova (Twin Sista)
Track: Dikawinkan Alam
MP3 File Size: 6.8 MB

Artist: The Cartel feat. Nova
Track: 10 Rainbows
MP3 File Size: 3.3 MB

Artist: Nova vs Sven Simulacrum
Track: Half Freestyle
MP3 File Size: 2.2 MB
---
Sven Simulacrum
Born in South Asia / Made in Australia. This Sydney based mix n mash slasher selecta brings chutney rebel baile bass bhangra bashment bump n grime. DIY diasporic culture clash!
Artist: Sven Simulacrum
Track: Invasion Day Riddim
MP3 File Size: 3 MB

Artist: Sven Simulacrum
Track: 1. Gangsta Desi Konkréte Kutz remix of Wire MC - B.L.A.C.K
MP3 File Size: 6.3 MB

Artist: Sven Simulacrum feat. Wire MC
Track: Mish hop Dogz Brek Fix
MP3 File Size: 3.8 MB

Artist: Nova vs Sven Simulacrum
Track: Half Freestyle
MP3 File Size: 2.2 MB
---
Potato Master
Post-Japanese Brisbane MC Potato Master_ sings, raps & raga MCs in Japanese, broken English and Gibberish alongside creating abstract beats for himself & DJing what he describes as 'funny music'. His style is deliberately out of control and is one of the most infectiously hilarious performances available to Australia's East Coast, and VERY Japanese. In 2002 he joined 19-t records in Kyoto Japan, and toured Europe with them in '03. In '05 he moved to Australia and linked up with locals including equally zany hip-hop crew 'Curse Ov Dialect', Brisbane's Anglo-Asian dub system 'Taste of tea', DJ Skyfish, Heavy weight champions and the 'Lao mirador' reggae radio show on Vegas's legendary 4ZZZ. He also became a central vocal entity in Uber Lingua Sound System and has toured Melbourne twice, once as the headline artist at St Jeromes. He literally brought the house down with his solid beats, ultra-precise raps and hysterical ways...
Artist: Potato Master
Track: Ichee Nee San Chee Ragga
MP3 File Size: 4.7 MB

Artist: Potato Master
Track: Number Two! (Consumerist Rap)
MP3 File Size: 3.9 MB

Artist: Potato Master
Track: Switch On (feat Cow P)
MP3 File Size: 3.8 MB

Artist: Potato Master
Track: Dubstep Experiment
MP3 File Size: 2.2 MB
---
bP
With cultural diversity his primary passion, Australian DJ/producer 'bP' (Brendan Palmer) has been representing the musically 'not so represented' for nearing two decades. He has wandered the world gathering sounds and has performed in places as diverse as Barcelona, Berlin, Dublin, London, Tijuana, Mexico city and Helsinki to name a few... In 2004 he launched Uber Lingua and his sonic activity has grown exponentially playing literally hundreds of gigs and promoting culturally charged music in most capital cities of Australia. bP's sets traverse language, culture, genre, history and social scenes; deliberately defiant of mainstream music fashions, he presents an intersection of underground and outernational sounds that capture his imagination. Roots to Futurism, East to West, Minimal to Maximal are all sonic stops on bP's translingual express. Brendan additionally works as a producer at the legendary Melbourne radio station Triple R during the day and presents the weekly 'Dialectic' radio program on the web, the Community Radio Satelite Network and 2SER.
Artist: bP (vs Marone & Menta)
Track: Curse ov dialect vs dubstep
MP3 File Size: 4.9MB

Artist: bP
Track: Atom remix (instro - edit)
MP3 File Size: 2.5 MB

Selector: bP
Set: The Circumnavigation Construction (Sept 07)
MP3 File Size: 72.6 MB

Selector: bP
Set: Horse Bazaar (late August 06)
MP3 File Size: 66.6 MB
alongside
Prem K (Tabla)

is a Melbourne-based percussionist, who originates from the lush coastal state of Kerala in Southern India. Coming from a musical family (his sister plays the violin and veena and his father plays the sitar), he began learning the tabla from the age of nine and later studied under the renowned guru, Ustad Narayan, for 8 years. In his late teens, Prem got into western styles of music, such as jazz, hip hop, and house, and his mind began to wander around the application of his skills in carnatic music (South Indian classical music) to contemporary sounds, and consequently, got involved, in the local pop music industry in Kerala, as a session musician and composer. Prem moved to Melbourne in 2005, and motivated by the desire to jam with electronic artists and DJs, migrated to the surreal Roland Handsonic electronic tabla, designed for ethnic percussionists.
Artist: Prem K
Track: Twisted Soul
MP3 File Size: 4.1MB

& Macro (on Sub bass duties)
Macro is originally from Brisbane and is a member of the tri-lingual Prussia duo... Also a former presenter on 4ZZZ up there, he performed with Uber Lingua at the Bellingen Global Carnival in 2007 as a participant in the YA LINGO! multi-lingual MC competition. In 2008 he moved to Melbourne joining the UL crew and becoming a mainstay of the weekly club... Macro raps in French...

---
DJ Ritual
Ritual is a DnB DJ known around that scene in Sydney... He jumped at the chance to play an Uber party and explore the musical roots of his genetic heritage... Here's the blag from his myspace...
"I guess I'd better put something up real quick... Ritual has been a boy in love with music for all of his almost 30 years. Like a lot of people seem to say, he grew up listening to loads of Motown, Funk, Jazz and guys like Hendrix and Led Zeppelin. I developed a massive love for the Police at the age of 4 thanks to my uncle (who has amazing taste in music and had a massive effect on everything I love from music to my ridiculous desire and love for Nike's). Dad was a drummer in a band (called Nirvana Express) and both him and his brother were DJ's in India in the 60's and 70's which worked out great for me as I now have all these original copies of Hendrix and Jazz albums - thanks dad).I was a very serious tennis player and on one Saturday as I was going to coach and dad says "son, since you're playing guitar now I think you should here this" I was about 13, the album was Hendrix 'Band Of Gypsies'. I knew then that music was going to play a massive part of my life (if I really had to chose just 1 album that is the greatest ever - I'd have to say that one). Ok, let's speed things up a bit here... Years of guitar playing ensued, studying for a time with Sydney Jazz guitar legend Carl Orr who was an absolute inspiration but unfortunately (for me)left Oz in 95 and another transformation begun... In '94 it was all about Bukem, Acid Jazz guys like Incognito and Mondo Grosso, Mo' Wax and fusion jazz. Time went on and 3 of my very close buddies and myself started a club night called Green n' Jazzy which was a night of everything from funk, to downtempo and DnB - but all with a distinct party vibe and the bizness of the beats has never stopped running from there. Over the next 10 years, it was Bukem, then Full Cycle, MIST and now Calibre as far as taste in DnB goes (if I was to give u the bare essentials). I play a lot of other stuff to from broken beat, Detroit techno, hip-hop, funk, beats, dub and reggae - u know I just love music. It so happens that my current passion is DnB. I also write breaks with Q45 and Kid Kenobi as 'Red'. We got commissioned to do a remix of Barcelona a JDS tune called rock star and a couple of other bits. It's great as we are 3 great mates that get to get in the studio together and the results have been well received... Gig wise, I've been lucky to play with most of the big internationals from Roni, Goldie, Bukem, Marcus Intalex, Zinc, D Bridge, Hype, Suv, Krust, Die,Groove - the list is huge and I'm gonna stop there. Being the first person to tour Marky and Bryan Gee in Sydney, Calibre too, I guess you could say that I got involved with all aspects of DnB. Coming to now (finally - thanks for sticking wit me) and I've been getting a lot of support for my music from my 'big brother' Spikey Tee (check the Congo Natty Outernational MySpace), RCola (big love for your support blud) and headz like Suv and Bryan Gee who are constant help and inspiration as well as my local boys like A.L.F. who I do a lot of DJ'ing and radio with as Rollers Music and NZ headz who seem to show me more love than over here in Oz. I'm sure I've missed out some shit and I'll amend that later but here's the rough info for now. ...Enjoy the beats as they should really speak for themselves.."
BEER GARDEN BBQ BY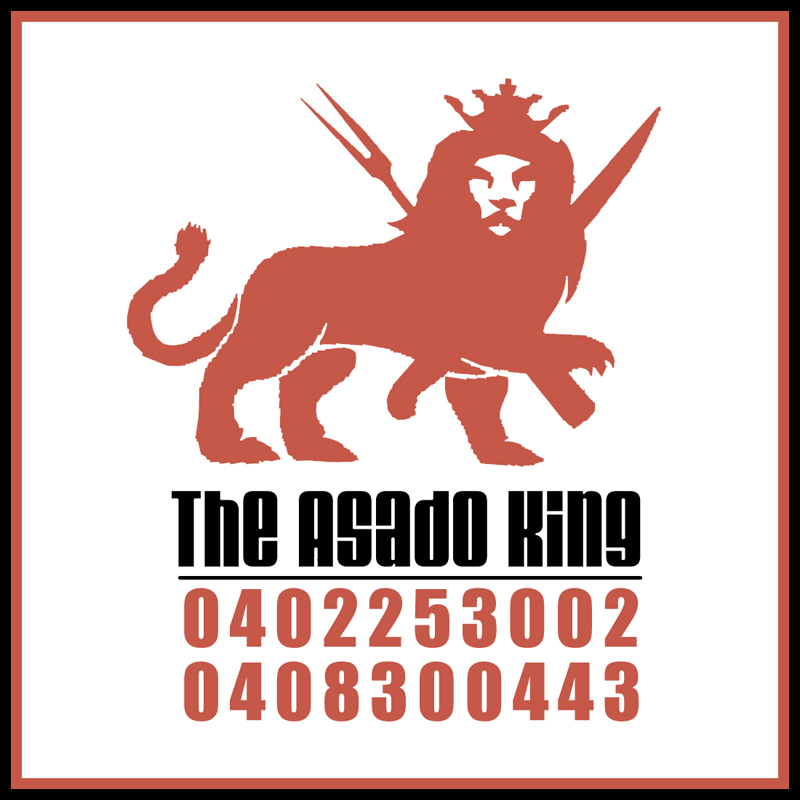 ---
previous UL parties at the ABERCROMBIE...
here are some of the more beautiful punters and crew at previous UBER parties...
check out photos from previous Sydney Uber gigs...

---
email: info@uberlingua.com to be on the Sydney Uber email list...
Music can be sent to Uber Lingua PO Box 2613 Fitzroy 3065 Australia