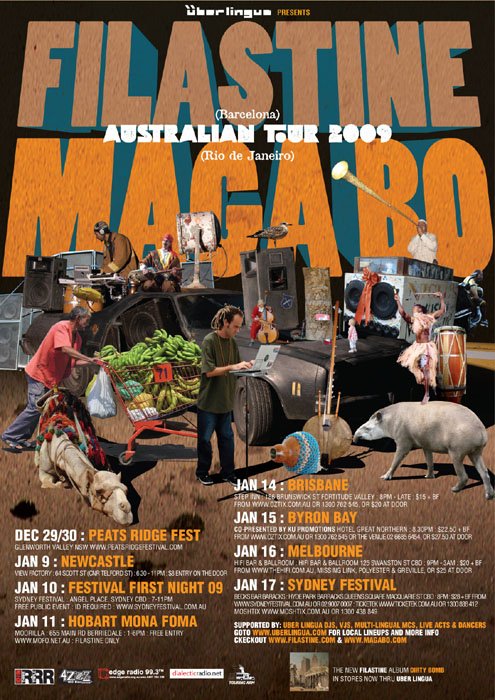 Uber Lingua presents two of the top exponents in global electronic culture jamming
MAGA BO (Rio de Janeiro) & FILASTINE (Barcelona)
After years of investing in local diversity, Uber Lingua embarks upon it's first attempt to tour international acts since the 2006 tour of Kenyan hip-hoppers Sinpare.
Also in 2006, UL made contact with Barcelona based producer Filastine, who was out for the This Is Not Art festival in Newcastle. Two events were hosted for him in capital cities, and a desire to bring him back at some point was seeded.
Over two years later, the ambition is being realised with the support of the Sydney Festival. To complete the equation Filastine's No. 1 partner in trans-genre multi-lingual sonic exploration Maga Bo will join him on this 10-event trek thru Australia's cities.
Joining these two will be local cultural activists from the Uber Lingua movement. Global beats DJs, multi-lingual MCs, cutting-edge VJs & stylistically diverse dancers. As both of these artists thrive on collaboration, many a vocalist, instrumentalist and electro-accomplace will be enlisted as the tour progresses... The final events in Melbourne and Sydney will surely feature many of these newly forged artistic alliances, adding to the already vibrant repotoir from these two.
Plus! The two Sydney events will also feature the other interntational act UL is touring during this time, DuOud from Istanbul. All three acts have a strong connection to Africa, the Middle East and European language. This leads to potential musical outcomes that may be enacted during this tour, and reflected in international releases over the coming years.
FILASTINE & MAGA BO AUSTRALIAN TOUR 2009
Dec 29/30: Peats Ridge Festival, Glenworth Valley NSW
(includes Sonar Calibrado AV performance)
Jan 2: Red Violin - Melbourne (DJ sets only)
Jan 9: View Factory - Newcastle
CLICK HERE FOR EVENT INFO : FACEBOOK EVENT
Jan 10: Festival First Night 09 : Angel Place - Sydney Festival
CLICK HERE FOR EVENT INFO : FACEBOOK EVENT
Jan 11: Mona Foma - Hobart (Filastine only)
CLICK HERE FOR EVENT INFO : FACEBOOK EVENT
Jan 14: Step Inn - Brisbane
CLICK HERE FOR EVENT INFO : FACEBOOK EVENT
Jan 15: Great Northern Hotel - Byron Bay
CLICK HERE FOR EVENT INFO : FACEBOOK EVENT
Jan 16: HiFi Bar & Ballroom - Melbourne
CLICK HERE FOR EVENT INFO : FACEBOOK EVENT
Jan 17: Sydney Festival Becks Bar, Hyde Park Barracks
CLICK HERE FOR EVENT INFO : FACEBOOK EVENT

---
Filastine (Barcelona)

Filastine creates music that bends genre, cutting mutated hiphop with other street rhythms and international obscura to build a new sonic territory defined by nomadism, collaboration, beat science, and massive bass.

In 2006 Filastine dropped his debut release, Burn It, to much critical acclaim on DJ Rupture's boutique imprint Soot Records. In the year that followed Burn It was licensed and re-released on CD three more times; by French label Jarring Effects, Japanese label ROMZ, and the anarchist media collective Crimethinc. Other releases include a CD mix and a 12" on Tigerbeat6 subsidiaries, and some vinyl on compilations and diverse labels. In 2009 he launches Dirty Bomb on Uber Lingua, Soot, Romz, Jarring Effects and Post World Industries simultaneously.

Filastine has brought his soundclash to every type of club, squat, and festival imaginable across the globe, delivering beats with laptop, midi triggers, loudspeaker, and percussion mounted on a shopping cart. In 2007 Filastine played some huge festivals, opening for Coldcut in Morocco, Diplo in Portugal, and Rebel Familia in Japan. Filastine tracks have aired on the UK radio shows of Mary Anne Hobbs & the late John Peel, and peaked at #15 in French independant radio charts.

Less visible are the spins on pirate stations in the Americas, or the more than fifty thousand downloads of his mix on Blentwell.com. Filastine founded the Infernal Noise Brigade, a 20-piece marching band active in international radical movements. He produced a record for a street band in Marrakech, Majmouat AbdelHakim, and is a composer for the butoh dance ensemble P.A.N. Sound is also a tool of direct action for Filastine. He conducts guerilla audio interventions and has been assaulted or arrested by police of many uniforms in the course of his work.
Artist: Filastine
Track: B'talla featureing Rabah
MP3 File Size: 6.0 MB

Artist: Filastine
Track: Dialectic Episode # 69
MP3 File Size: 66 MB
---
Maga Bo (Rio de Janeiro)
Based in Rio de Janeiro, Maga Bo is a DJ/producer working with an international collision of styles, sounds, location recordings from all continents and beats that have yet to be classified. A study in the digital contortions of transnational breakbeat based bass music, his sound is an amalgamation of smashed up batucada, rai, capoeira, bhangra, loudspeaker jitter and skewed electronic beats in a borderless conundrum of gritty street sounds, found, stolen and modified rhythms and melodies from Brazil, Morocco, India and beyond. DJing and producing tracks with a portable laptop studio, he has worked and performed in Africa, Asia, North and South America and Europe.
Having travelled widely, his collaborators range from Mr. Catra, B Neg_o and Piveti (ex-Pavilh_o 9) to Marcelo Yuka and Marcos Suzano in Brazil to Pee Froiss, WA BMG 44 and ALIF in Senegal to Prince Wadada and Kalaf in Portugal to K-Libre and Bigg (Mafia-C) in Morocco to Teba Shumba, DJ Dope, Max Normal and SiBot from African Dope Records in South Africa.
He has remixed and been remixed by Ghislain Poirier, Dr. Das (Ex-Asian Dub Foundation), Nettle (DJ /rupture's live project), Genetic DruGs, Digitaldubs Sound System, Quantic, TM Juke and others. His work has been released on Soot Records, WordSound, and Tru Thoughts as well being re-released on numerous compilations. Aside from his varied solo work, he also represents one half of Sonar Calibrado Sound System in collaboration with Filastine.
His live performances are a hybrid mix of DJ set and live PA where pirate cassettes bought on the street in various parts of the world, MP3s from the internet, obscure vinyl found in underground shops, original beats, unreleased remixes and exclusive tracks are selected, juxtaposed and mixed in a unique narrative . His performances often include the presence of guest MCs and musicians.
When the freelance sound engineer works outside of his Brazil home-base, Maga Bo stays for weeks at a time: voicing dubplates, recording musicians, doing things like skills exchange and workshops (i.e. teaching young African hiphoppers how to rock pirated audio software...) Call it what you want - creating community, deconstructing the exotic, making collaborations in a fair and respectful way - the music speaks for itself.
Artist: Maga Bo
Track: É Pra Valer feat. Piveti
MP3 File Size: 8.0 MB

Artist: Maga Bo
Track: Dialectic Episode # 80
MP3 File Size: 67 MB
www.magabo.com
---
As part of this tour, Filastine launches his new album Dirty Bomb, released locally thru the Uber Lingua record label.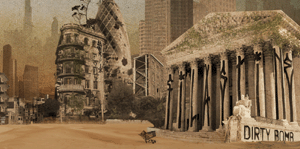 ---
email: info@uberlingua.com to be on our email list...
Demos can be sent to Uber Lingua PO Box 2613 Fitzroy 3065 Australia